Options
Mark as New

Bookmark

Subscribe

Mute

Email to a Friend
I'm hearing impaired and had one Samsung Galaxy S phone that had volume boost. Ever since my first Galaxy S phone, I have stuck with them when upgrading and would hate to go with another brand of phone. Apps that claim to boost volume simply don't work. Please fix this problem for all of us hearing impaired people who love our Galaxy phones, notebooks etc.
Hi, I am sorry to hear of your audio problems. Have you looked in the Accessibility settings and checked out the Hearing enhancements settings? Those can be a huge help for cases like this. There are a few things that can cause issues with the speaker while you are on call or listening to audio playback through your Galaxy phone. For example, there could be an external device where the audio is being redirected. It's also possible that a software problem or physical damage is causing the issue. Try these steps here: https://www.samsung.com/us/support/troubleshooting/TSG01001255/
Additionally, make sure all volume sliders are set to your preference:
By activating Use Volume keys for media, you are able to control the media volume by default when you press the volume keys. There are two ways of enabling or disabling this function either through your Quick Settings panel or via your Sounds and vibration settings.
Using Quick Settings Panel
1. Press the Volume key and swipe down on the volume notification.
2. Toggle on Use Volume keys for media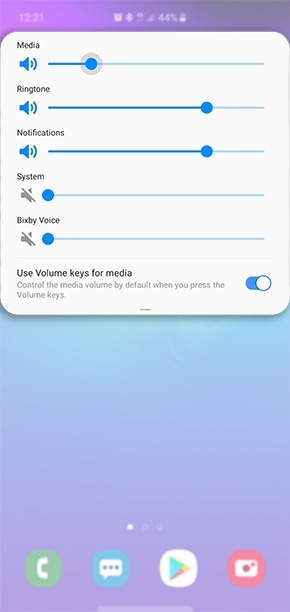 Using the Settings menu
1. Launch your Settings and select Sounds and vibration
2. Toggle on Use Volume keys for media
Finally, if none of these helped, you can try wiping your device's cache partition:

Performing a wipe cache partition removes any temporary files that may be causing an issue with the device. All personal files and settings are not affected by this option.
Ensure the device is powered off.
If the device is unresponsive/frozen, press and hold the Power button (located on the upper-left edge) for approximately 10 seconds or until the device power cycles.
Press and hold the Volume Up button (located on the upper-left edge) and the Home button (located at the bottom in the middle).
While continuing to hold the Home and Volume Up buttons, press and hold the Power button (located on the right edge) until "RECOVERY BOOTING" appears in the upper left then release all buttons.
Select wipe cache partition.
Utilize the Volume Up/Down buttons to highlight and the Power button to select.
Select reboot system now.
Option is highlighted, utilize the Power button to select.
Another thing to try is Safe Mode, which can tell you if a third party application is causing your volume to be too quiet. The steps for using Safe Mode are here: https://www.samsung.com/us/support/answer/ANS00062983/
Please let me know if this helps.