Options
Mark as New

Bookmark

Subscribe

Mute
I cannot connect my smart remote to my TV (UN50MU6300FXZA). The on/off button will power the TV, but when I press any button the TV says "Connecting to the keyboard..." and then says it failed, and asks me to press the pairing button on the keyboard.
I've pressed the back and play/pause button to pair, and I've tried taking out the batteries and holding a button for 20 seconds to discharge them. I'm also using brand new batteries. In fact, all the problems started when the original batteries died and I replaced them.
I also tried running the TV through the setup.
1 Solution
I'm sorry to hear that, have you tried the following?
Your Samsung Smart Remote is designed to connect to your Samsung TV automatically to make the setup easier. You can sync the remote with a different Samsung Smart TV at any time if you'd like, but it will only work with one TV at a time. If you're going to use it with multiple TVs, you'll have to manually pair it to your desired TV each time.
Note: Images, buttons, and functions of the Samsung Smart Remote may differ by model.Connect the Samsung Smart Remote to your TV
Point the Smart Remote at the remote control sensor on the TV. On most Samsung TVs, the remote control sensor is located on the lower right hand side of the TV. If not, it is directly in the bottom center.
Next, press and hold the Return and Play/Pause buttons simultaneously for at least 3 seconds. Your TV will begin syncing with the Smart Remote. Then a message will appear, indicating that the remote is now connected to your TV.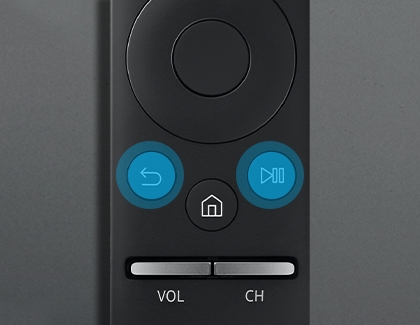 If you have lost it, there are multiple ways you can replace your remote. If your remote does not have the same buttons, you can check the user manual for steps specific to your model. If you are still having problems connecting your remote, or if the remote is not working the way it should, we can help with that too.
You can also use your remote app on your phone and make sure your software is up to date.
If the troubleshooting steps did not help above then you have a couple of options based on your warranty.
- If your unit was recently purchased, you can check with your retailer on their return/exchange processes.
- If you have an extended warranty you can reach out to them to have service set up.
- If you're within the one year warranty, you can Private message me or one of our moderators with your full model and serial number to have service setup
- If you're OUT of warranty, you can use this link below to find a service center in your area.
https://www.samsung.com/us/support/service/locations/

Be sure to click " ✓ Accept as Solution" when you find an answer that works for you.





Please note, notification emails are a DO NOT REPLY address, you must log-in on the community page in order to respond.